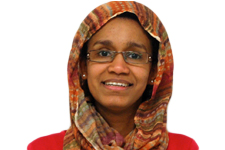 Safia Omer, 4th Year
Program: Biology
Advisor: Wei-Lih Lee
Education:University of Khartoum, Institute of Endemic Diseases, Khartoum, Sudan
M.Sc. Molecular Medicine, 2010
Thesis title: Copy Number Variation of Plasmodium falciparum Reticulocyte Binding Protein Homologue 4 (PfRh4)
University of Khartoum, Khartoum, Sudan, B.Sc. with Honors, Zoology 2007
Publications
Steven Markus*, Safia Omer*, Kaitlyn Baranowski, Wei-Lih Lee. Improved Plasmids for Fluorescent Protein Tagging of Microtubules in Saccharomyces cerevisiae. 2015. Traffic Jul;16(7):773-86. doi: 10.1111/tra.12276.
* Co-First Authorship
Research Summary
Research spindle dynamics during mitosis in budding yeast
My studies aim to understand how dynein activity is regulated at the cortex in budding yeast. In the past year, I have generated data that support the role of cortical attachment molecule, Num1 in regulating dynein activity. I showed, via utilizing Num1 localization mutants, which altered Num1 localization uncovers new dynein-dependent cortical pulling mechanism that is negatively regulated in wild-type cells. I further showed that this mechanism requires dynein interaction with Num1 at the cortex and its motor activity. Additionally, I identified that Num1 distribution along the cortex is able to regulate and facilitate dynein switching between two modes of cortical pulling mechanisms – microtubule sliding and end-on capture-shrinkage. These data are part of a manuscript in preparation.