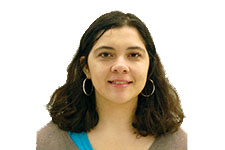 Heather Sherman, 2nd year
Program: Molecular and Cellular Biology
Advisors: Barbara Osborne and Lisa Minter
Education: Binghamton University, Cell and Molecular Biology, 2015
Publications
Ozay E.I., Gonzalez-Perez G., Torres J.A., Vijayaraghavan J., Lawlor R., Sherman H.L., Garrigan D.T. Jr., Burnside A.S., Osborne B.A., Tew G.N., Minter L.M., Intracellular Delivery of Anti-pPKCθ (Thr538) via Protein Transduction Domain Mimics for Immunomodulation, Molecular Therapy, 2016 Sep 16.
Research Summary
Spatiotemporal analyses of signaling cascades in activated CD8 T cells
Aberrant immune responses can result in inappropriate immune reactions leading to autoimmunity.  Determining the cell signaling cascades involved in immune cell activation will allow us to modulate the immune response.  My research focuses on the nuances of T cell activation and mechanisms to modify T cell activation.  We and others have shown that the activation process in CD8+ T cells differs greatly from CD4+ T cells.  We have been utilizing imaging flow cytometry analysis to determine the presence and localization of different proteins important in the various cell signaling cascades known to induce T cell activation.  I have found that several different proteins known to induce NF-kB activation differ spatiotemporally between CD8+ and CD4+ T cells.  The manipulation of these proteins may act to neutralize aberrant immune responses.
Our lab studies Graft-versus-Host Disease (GVHD), which is a Th1-mediated disease that induces the infiltration of CD8+ T cells into engrafted bone marrow and other target organs.  These CD8+ T cells deplete the hematopoietic cells in the bone marrow.  Due to the redundancy of different cell signaling cascades, blocking a common factor both in CD4+ and CD8+ T cells could be detrimental to the functioning of the entire immune system.  However, identifying a specific protein necessary for CD8+ T cell effector function may allow us to reduce the CD8+ infiltration implicated in disease without compromising CD4+ T cell immune function.