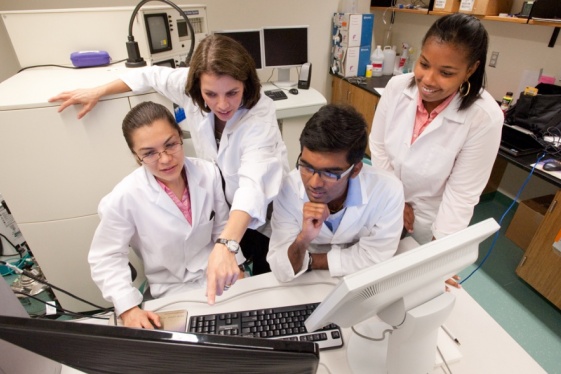 The UMass BTP community prides itself on being a highly interactive and inclusive group that fosters excellent BTP training and research.
The benefits of BTP training are available to all UMass graduate students who choose to pursue the BTP curriculum.
Through a combination of NIH funding and matching funds provided by UMass, BTP Traineeships are available to both US and international students, on a competitive basis.
Fully 100% of BTP labs are involved in training undergraduate and/or graduate students from under-represented groups, and many BTP program members and alumni are from traditionally underrepresented groups on the basis of ethnicity, disability and/or economic disadvantage. This commitment to training individuals from underrepresented groups promotes diversity in the workforce and encourages an inclusive environment that is comfortable and conducive for the training experience.
UMass has historically demonstrated a strong commitment to support students who are traditionally underrepresented in the STEM fields. Each summer UMA hosts 7-10 NSF-sponsored Research Experiences for Undergraduates (REU) programs, providing hands-on research opportunities and professional development activities to inspire participants to pursue graduate studies.
With a number of programs designed to foster success, UMass is a destination of choice for students from under-represented groups to pursue graduate education in STEM disciplines:
Affirmative Action and Non-Discrimination Policy Statement
The University of Massachusetts Amherst prohibits discrimination on the basis of race, color, religion, creed, sex, age, marital status, national origin, mental or physical disability, political belief or affiliation, veteran status, sexual orientation, gender identity and expression, genetic information and any other class of individuals protected from discrimination under state or federal law in any aspect of the access to, admission, or treatment of students in its programs and activities, or in employment and application for employment. Furthermore, University policy includes prohibitions of harassment of students and employees, i.e., racial harassment, sexual harassment, and retaliation for filing complaints of discrimination.
Affirmative action in employment is required for women; racial and ethnic minorities; disabled veterans, recently separated veterans, active duty wartime or campaign badge veterans, and Armed Forces service medal veterans; and individuals with disabilities in order to address under-representation in the workforce. Inquiries concerning applicable laws, regulations, and policies should be addressed to the Equal Opportunity and Diversity Office (EO&D), 243 Lederle Lowrise Building, main number and TTY (413) 545-3464, email: eod@admin.umass.edu, web: www.umass.edu/eod/.
Inquiries regarding state laws may be directed to: Massachusetts Commission Against Discrimination, 436 Dwight Street, Room 220, Springfield, MA 01103.  Telephone: (413) 739-2145.
Revised: February 10. 2016