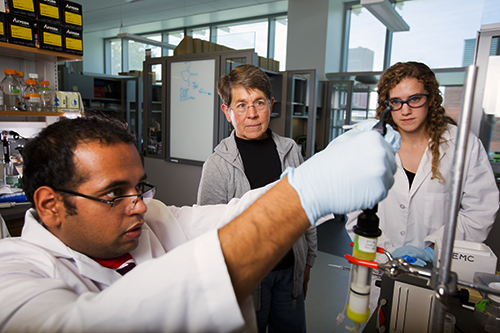 The biotech community at UMass has an 8-year tradition that started as part of the Institute Cellular Engineering to teach laboratory modules on cutting edge research techniques.
These modules will continue under BTP and can be attended by industrial partners interested in learning new methods and using UMass facilities. Laboratory modules are held at various locations on the UMass campus during winter break, spring break and during the summer.
The last lab module was on introduction to the microscopy core facility.  This module was be taught by Jim Chambers on December 13 & 15, 2016.
Upcoming modules offered in Summer 2017:
Introduction to Biomaterials and their Applications
This lab module will combine hands-on activities in chemical synthesis, hydrogel network polymerization, mechanical characterization, cell culture, and microscopy to create biomaterials for applications in cell culture. The module will define and familiarize students with the term "biomaterial," discuss the application of biomaterials, and provide hands-on experience working with synthetic polymer hydrogels for tissue engineering. Instructors will teach methods for creating novel monomers to include in biomaterials, growing cells on these materials, and chemically and functionally characterizing them. The module is designed for those with little to no familiarity with biomaterials.
Instructors: Profs. Shelly Peyton (Chemical Engineering) and Todd Emrick (Polymer Science and Engineering)
Maximum Class Size: 4
Dates/Times: August 1-2, from 9a-12pm and 1-4pm each day
Location: Conte and LSL, rooms TBA
To sign up, please, contact Prof. Peyton at speyton@engin.umass.edu
Building a Microscope
This module will expose students to optics theory and experiment by building a transmitted light microscope. Lecture will include basic ray optics. Hands on work will include optics basics culminating in the construction of a light microscope, leading to the imaging of several specimens.
Instructor: Prof. Jennifer Ross (Physics)
Maximum Class Size: 7
Dates/Times: August 8-9, from 10 am – 4 pm
Location: R. 329 ISB
To sign up, please, e-mail at btpassist@umass.edu before August 2, 2017.
A list of prior laboratory modules can be found here.